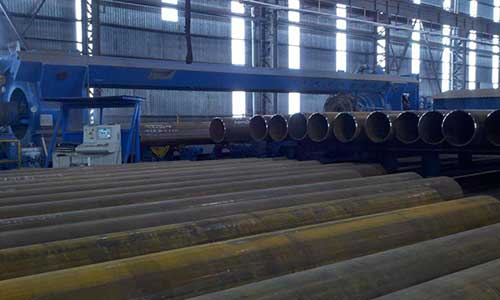 ERW Pipes
By electrical resistance
within the ERW category, there are modern continuous forming mills that produce longitudinal seam welded by high frequency electrical resistance, to be used in the conduction of liquids, gases, solids and semi-solids. 
Additionally, this mill has great flexibility to adapt to the customer specifications.
To fulfill the commitment to provide a reliable product, rigorous tests and inspections are applied throughout the entire production process. 
The raw material that PROCARSA uses for its pipe is: Steel Rolled Roll and its manufacture is verified in the same facilities of the steel mill. 
As a first option the steel roll is introduced to the cut line (Slitter) for its side cut, in order to obtain the necessary width for the development of the tube and a free defects edge. Subsequently, the roll passes to the mill where the tube is cold formed by a series of rollers in consecutive steps and immediately the welding is carried out by applying an electric current of 600 KW.
The next steps are to give the tube roundness, straightness, cut out at both ends of the tube for squaring, beveling and hydrostatic testing.